Russian court acquits prison bosses in high-profile torture case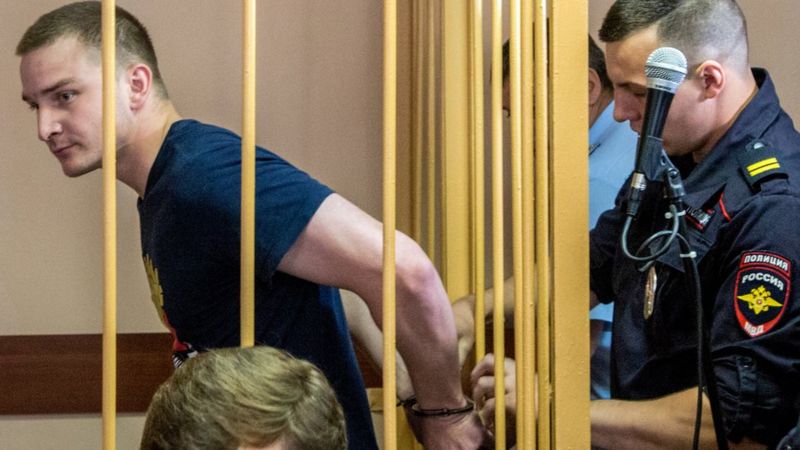 A Russian court has acquitted the former boss of a prison, along with his deputy, over the torture of an inmate in a case that shocked
the country.
Thirteen other defendants were found guilty and handed jail sentences ranging between three and four years.
The case was brought after video emerged of the brutal torture of Yevgeny Makarov in a prison in Yaroslavl, north of Moscow, in 2018.
It caused public outrage and prompted calls for reform in the prison system.
Court sources quoted by Russian media said that Dmitry Nikolaev, former head of the prison IK-1 in Yaroslavl, and his deputy Igit
Mikhailov had been cleared on charges of torture. Prosecutors immediately said they would appeal against the verdicts.
According to the Moscow-based rights group Public Verdict Foundation, prison employees said Dmitry Nikolaev and Igit Mikhailov
had been aware of the torture of Yevgeny Makarov, referring to it as "educational work". They denied any wrongdoing.
Of those found guilty of abuse of office, the longest sentence - four years and three months - was handed to ex-prison guard Maxim
Yablokov who was clearly seen in the video striking the prisoner repeatedly.
Another high-profile defendant in the case, prison official Sergei Efremov, was sentenced in January to four years. He had pleaded
guilty and agreed to testify against his colleagues.
Some of those found guilty on Thursday were immediately released because of time served in pre-trial detention, court sources
said.
Footage of the torture was published by Novaya Gazeta in the summer of 2018. It showed Yevgeny Makarov being held face down
on a desk as more than a dozen prison officers took turns to beat his feet with truncheons.
You can only read breaking news here. :
ลงทุนกับเกมสล็อต